Alex Rider has returned home from his first Boy Scout Camp week! He was filthy – we expected that – but very happy. Which makes Mom and Dad very happy! He had a great time, earned 3 merit badges, started a 4th, and completed a lot of requirements towards rank advancement. He has already soaked in the tub, helped unpack all of his stuff for hosing down and airing out, piled his dirty clothes on the foyer floor for washing, had some lunch, and is reclined in the rocker-recliner watching Mythbusters – about to fall asleep! Except that he refuses to let himself take a nap. 🙂 
Camp Fleischmann (check out the video) is located near Chester, CA on Mount Lassen which is a dormant, round-dome volcano. The entire area is covered with a very fine, black dust that is a mix of decomposed lava rock and decomposed pine needles and gets into everything! Hence, the hosing down of all of his gear – except his sleeping bag. It gets a beating and airing-out. 
He has already told us a bunch of what he did. He admitted to having been homesick the first 2 days, but says that after that, he didn't think about it anymore. I am glad that he was able to shake-off the homesickness and really enjoy himself. Not bad, considering this was his first time away from the family for so long and, even more so, pretty much responsible for himself the entire week. I was worried about him around Wednesday because I had heard that he was just kind of wandering around looking a little lost or overwhelmed. One of the Assistant Scoutmasters is Alex Rider's best friend's father and had talked to his wife on Wednesday morning because of a family emergency and that was the feedback he gave about Alex Rider. So, of course, from Wednesday evening through today, I was worried about him and worried that our leadership was not what I expect to help the young Scouts. Luckily, I had nothing to worry about. Probably what the Assistant Scoutmaster saw in Alex Rider was those first 2 days of homesickness that he overcame about the time we got word about it. That particular Assistant Scoutmaster had to leave camp on Wednesday because of that family emergency and therefore didn't know anything about how Alex Rider was doing from Wednesday on. 
He completed the Tracking merit badge, which is one of 4 that have been resurrected for this Centennial Year of the BSA. It will have a special border around it to show that it is one of the 4 commemorative badges. He earned Leatherworking and – Swimming (the hard one!) His swimming merit badge helped fulfill some of the requirements for both his 2nd class and 1st class rank!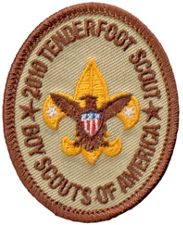 He has all requirements for Tenderfoot complete except the Scoutmaster Conference and Board of Review. Then he completed a bunch of his 2nd class requirements and all of his swimming requirements for 1st class. He had earned his First Aid merit badge back at Merit Badge College in May, which also fulfilled some of his requirements for 2nd and 1st class. So all-in-all, I would say he had a very successful week!